In his first trip abroad as House Speaker, the prominent Republican (along with a bipartisan delegation) met with PM Meloni, President Mattarella and Italian Speaker Fontana. Muzergues (IRI) notes that his visit to Italy, the only EU country on the list, "shows how crucial Rome is seen as a central hub for the Mediterranean" and highlights the "excellent" bilateral relation
Kevin McCarthy is in Rome. Flanked by a bipartisan delegation of United States MPs, the Republican Speaker of the US Lower House is visiting the Eternal City for a series of high-level meetings, including with Prime Minister Giorgia Meloni, President Sergio Mattarella and his Italian counterpart Lorenzo Fontana.
Mr McCarthy's Rome stopover is an addition to the originally MENA-only tour, his first trip since becoming Speaker, encompassing Egypt, Jordan and Israel.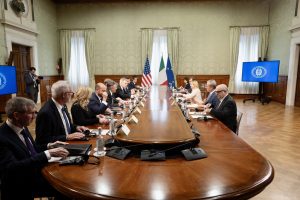 Shared dossiers and consolidated ties. According to an official note, the focus of the meeting between the Italian and US Speakers was the conflict in Ukraine, stability in the Mediterranean, strengthening the role of parliamentary diplomacy, and the international geopolitical scenario.
PM Meloni is expected to travel to Washington in the coming months, allegedly before summer. A trip that – much like Speaker McCarthy's to Rome – will serve to reiterate the importance of transatlantic relations and the alliance between Italy and the US.
The expert's take. "Speaker McCarthy's visit is a very strong sign of the importance that Washington gives to the bilateral relationship between the US and Italy," said Thibault Muzergues, Europe and Euro-Med Programme Director at the International Republican Institute, to our sister website, noting that his Rome stopover (the only EU one) "shows how crucial Rome is seen as a central hub for the Mediterranean, which Washington understands is a crucial region in the world."
"The bilateral relationship was already excellent during the previous government of Mario Draghi, and President Meloni is continuing this remarkable trend of deepening the ties between the two countries," he added.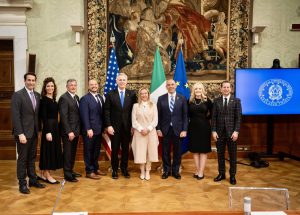 Talking foreign policy. "As of now, it looks like there are very few differences in foreign policy orientation and priorities between the two countries, at least on all the important issues, notably Ukraine," continued Mr Muzergues, noting Ms Meloni's support for Kyiv and the geographical convergence between "the US vision for a free Indo-Pacific and Italy's understanding that the enlarged Mediterranean should remain a Mare Liberum."
The expert also touched upon 

the Belt and Road Initiative quandary

, expressing his belief that "everybody has understood that the BRI has not led to anything positive for Italy, and that the investments promised have not arrived (even though the risks of malign Chinese influence have gone up)."

Washington expects that PM Meloni will drop the deal and burnish her credentials as an Euro-Atlantic mainstay, whereas Beijing is 

pushing in the opposite direction

.