Ambassadors from France, Germany, Italy, the UK and the US engaged in talks with the Kosovar and Serbian leaderships, seeking to defuse tensions and prevent further escalations, after ethnic Serbian protesters injured 30 KFOR peacekeepers in northern Kosovo – with Russia looming behind the conflict
NATO soldiers get hurt in Kosovo. On Monday, Ethnic Serb protestors clashed with personnel from NATO's KFOR peacekeeping mission, who were deployed to contain violent demonstrations in the northern Kosovar city of Zvecan. A total of 30 soldiers were gravely injured, according to KFOR updates on Tuesday morning; 19 of them were Hungarian and 11 Italian (who represent the largest unit within KFOR, which is led by Rome).
NATO officials spoke of "multiple injuries, including fractures and burns from improvised explosive incendiary devices." Three Hungarian soldiers were "wounded by the use of firearms," but their injuries are not life-threatening.

Injured demonstrators, according to numbers stated by Belgrade, were 52. Kosovar police detained four.
Some steps back. Simmering tensions in the northern region of Kosovo erupted into violence after local, poorly-attended administrative elections became the spark for ethnic Serbian demonstrators to push back against elected ethnic Albanian majors, and thus the Kosovar government's push to bolster its statehood, over the past days.
The newly-elected Kosovar authorities decided to force their way into municipal buildings last week, eliciting a 

joint condemnation

 from the Quint format – France, Germany, Italy, the UK and the US – who also expressed their concern for Serbia's decision to raise the readiness level of its armed forces at the border with Kosovo to the highest level.

Ethnic Serbian demonstrators in four northern cities, including Zvecan, took to the streets to prevent the ethnic Albanian mayor from accessing their local offices, creating blockages that also impeded the passage of local police forces and eventually warranting the deployment of KFOR forces.
Actions and reactions. KFOR's Mission Commander, Major General Angelo Michele Ristuccia, issued a stern rebuke by urging "both parties […] to take full responsibility for what happened and prevent any further escalation, rather than hide behind false narratives." In a statement, NATO condemned what it called an "unprovoked" attack against KFOR personnel and stressed that the mission would "take all necessary actions to maintain a safe and secure environment."
The Quint steps up. Ambassadors from the five nations met in Pristina with Kosovar Prime Minister Albin Kurti, reports AP, asking him to work towards de-escalating tensions while strongly denouncing the ethnic Serbian violence against KFOR troops and journalists. They are due in Belgrade to meet the Serbian President, Alexander Vucic, who recently resigned as head of his party amid widespread protests.
By bolstering its representatives' efforts, the Quint's work is also geared at countering the ongoing hybridisation of the Kosovo-Serbia conflict with Pristina and Belgrade's internal woes – and the latter's ever-tight relationship with Moscow.
Russian shadows. The Western capitals (and notably Rome) have been working to stabilise the relationship between the conflicting parties and push the Western Balkans nations towards European integration. The process is accelerating as it's become all the more urgent in the context of Russia's war in Ukraine, as Moscow's support of President Vucic risks exacerbating tensions.
There is ample evidence of ideological links between the ethnic Serbian protesters and the Kremlin, as the formers 

spray-painted the "Z" symbol

 – used by Russia to support its invasion of Ukraine – on NATO vehicles and walls.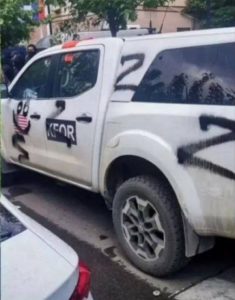 Featured image: Twitter/@UnaHajdari