The firebrand leader who lifted the League from single digits to 34% just dropped it back below 9%. He blamed Draghi and promised to do better, but party lieutenants have started doubting his leadership – while the prospective PM already barred him from becoming interior minister, says Repubblica
That didn't go to plan. The League performed worse than expected in Sunday's general elections. Although its right-wing coalition won a comfortable majority, the party got less than 9% of the total votes. And the party's secretary, Matteo Salvini, is feeling the heat.
The former minister of the interior is the author of the League's rise from single-digits to 17% in 2018's general elections and then up to 34% in 2019's European elections. Now, however, he's also seen as the architect of its fall.
The aftermath. Speaking on Monday, Mr Salvini acknowledged the lacklustre performance, but he blamed the League's time as a partner of Mario Draghi's "national unity" government and essentially refrained from self-criticism. That didn't sit well with some party members, who took a shot at their leader.
"It's time for a new secretary," said his retired predecessor, Roberto Maroni, while calling for a new party congress. Regional leader Paolo Grimoldi also called for Mr Salvini's "immediate resignation."
Raffaele Volpi, the former head of the Intelligence Committee who did not run in the latest elections, simply posted a picture: Jacob Peter Gowy's Fall of Icarus.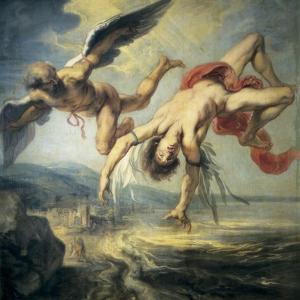 A weakened Matteo Salvini will be less able to exert his will over the future governing coalition, led by Giorgia Meloni's Brothers of Italy, where he's set to become a junior partner. This, in turn, means that his potential threat to Ms Meloni's Atlanticist and pro-Ukraine course will be significantly smaller.
For instance, the leader of the League is critical of the Western sanctions on Russia and opposed to sending more weapons to Ukraine. But these overtly pro-Russian stances failed to intercept more voters – and will matter far less in Italy's next government.
The unattainable job. "I would like to become interior minister again," said the League's leader on the campaign trail. When he had the job, mid-2018 to mid-2019, the party peaked in the polls. However, he is also weighed down by the trial (which he uses to proudly demonstrate his hard line on immigration) regarding the time he prevented a refugee-laden NGO ship from landing. He is charged with kidnapping and refusal to carry out official acts and faces15 years in prison.
League officials are aware that President Sergio Mattarella may raise some objections over electing Mr Salvini as interior minister in light of the ongoing trial. "We have no doubts that [President] Mattarella does not look upon us favourably," a party member told Repubblica.

The president's opinion heavily influences the picks for the four key ministries – Foreign Affairs, Economy, Interior and Defence.

According to Repubblica, Ms Meloni could aim to neutralise Mr Salvini and propose another member of the League instead.